Gas fire and gas leaking simulators
We manufacture gas fire and gas leakage simulators for firefighting and industrial personnel training purposes.
Gas fires can be produced with either liquid gas or natural gas. Training fires can be built to resemble a real life situation, for example different valve systems or containers where a gas leak transforms into a gas fire.
Adjustable fire control enables training to be as life-like as possible, while retaining safety of all participants involved in training.
Automatic computer logic controlled simulators constantly monitor gas concentrations, temperature, and oxygen and carbon monoxide levels inside the training space. Automatic safety system reacts immediately if conditions inside the simulator change.
For professional and voluntary firefighters and industrial safety and rescue service personnel. Simulators are well suited for practising both controlling and extinguishing gas leaks and fires.
Liquid gas operated leakage and firefighting simulators are well suited for placements in the immediate vicinity of fire stations or industrial areas. Small leak and fire simulators do not require heavy constructions for placement.
The perks of a gas fire simulator
Controlling gas fires is a skill that requires constant practice to upkeep. Extinguishing a gas fire without properly shutting off the valves might cause extremely dangerous gas leaks. Gas fire and leakage situations require fast action and good knowledge of most common gases and their behaviour beforehand.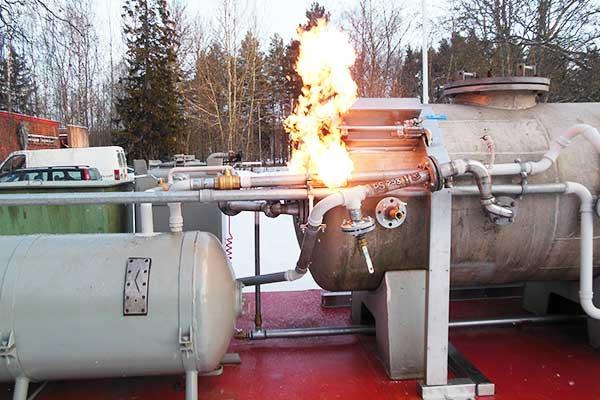 We have delivered dozens of gas fire and leakage simulators all over the world.
They have been hugely popular with rescue service colleges and also fire stations and with industrial entities.