We design and manufacture firehouses for emergency services. Firehouses are manifolds of multiple different training objects, designed to meet clients needs and requirements.
Firehouses can be equipped with multitude of different fire locations, such as apartments, kitchens, garages, stairwells, elevator shafts, attics, electrical centres and warehouses.
Each space is equipped with gas fuelled burner station, which has automatic ignition, flame control and extinguishing systems. Adaptive flame control enables trainings of many different levels of difficulty and intensity. The utilization of artificial smoke and sound can add to the overall level of challenge and intensity of training.
Computerised automatic logic controlled firefighting simulators constantly monitor gas concentration, temperature, and oxygen and carbon monoxide levels in the space. Automatic safety system reacts immediately if the conditions in simulator change. Firehouse can also be used to practice rescuing, smoke ventilation and damage prevention.
Target audience for Firehouses
Firehouses are designed for specific needs of emergency services. Firehouses can be equipped to meet the requirements of industrial, institutional and military emergency services as well as municipal emergency services. Firehouses are usually characterised by higher powered flames and more difficult
fires to put out. Firehouses suit regional training areas and training grounds of specialised training companies. At military locations they can be combined with military and firefighting risks and hazards.
PLC guided and liquid gas fuelled firefighting training simulators can be located to almost anywhere. Automatic monitoring and control over flame ignition, burning, and extinguishing guarantee safe usage.
Versatile and easy-to-use firehouse
Emergency services need to train with multiple units across departments simultaneously regularly. Practices and training done during stand-by shifts can be cancelled and postponed with one press of a button. Firehouses are cost effective to use and they last for a long time. Convertibility and fast and easy changing of practices guarantee even difficult training whenever required.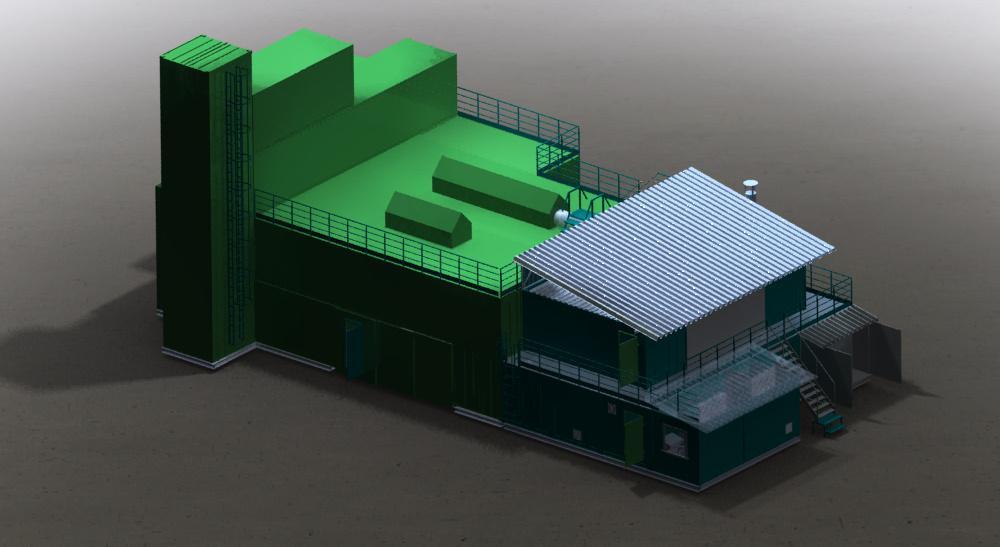 Firehouses have been constructed on multiple training grounds and for industrial use all over the world.