Firefighting simulators for industrial complexes
Interfire Products Oy (Ltd) designs and manufactures firefighting simulators for industrial use
The industrial hall or building for simulator is designed and manufactured according to clients requirements and needs. The hall is installed with fire spots and different training targets, such as conveyors, silos, tanks, electrical centres and warehouses. Each space is equipped with gas fuelled fire system, which has automatic ignition, flame control and extinguishing control systems.
Safe firefighting training
Adaptive control enables running of different levels of training difficulties. Automatic logic controlled are constantly monitoring gas concentrations, temperatures and oxygen and carbon monoxide levels. Automatic safety system reacts instantly if the conditions in the simulator change suddenly.
Firefighting simulators are designed according to the requirements of different companies from different industries and branches. One simulator can be equipped with distinctive fire targets for multiple different branches. Firefighting simulator for industrial buildings is characterised by large power and hard to extinguish flames. Firefighting simulators for industrial use are well suited for regional training grounds and training areas run by specialised companies. Simulators can be combined to include both military and fire hazards in military locations.
PLC controlled liquid gas fuelled firefighting simulators designed for industrial locations can easily be placed next to almost any required industrial operation. Automatically controlled ignition, burning and extinguishing guarantee safe use of the simulator. Mobility and manoeuvrability enables the simulator to be relocated whenever required, such as moving the operation or expanding the production.
Firefighting simulators designed for industrial use are long lasting and cost effective to use. Convertibility and fast and easy changing of practice hazards guarantee even demanding trainings for any industrial entity.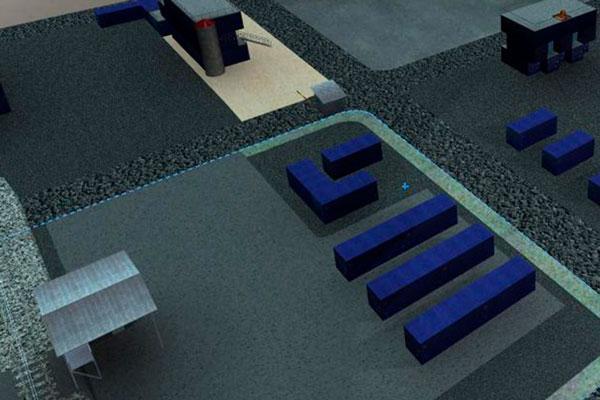 First specifically industrially targeted firefighting simulator and training started already in 1996 at National Emergency Services College in Kuopio, Finland.